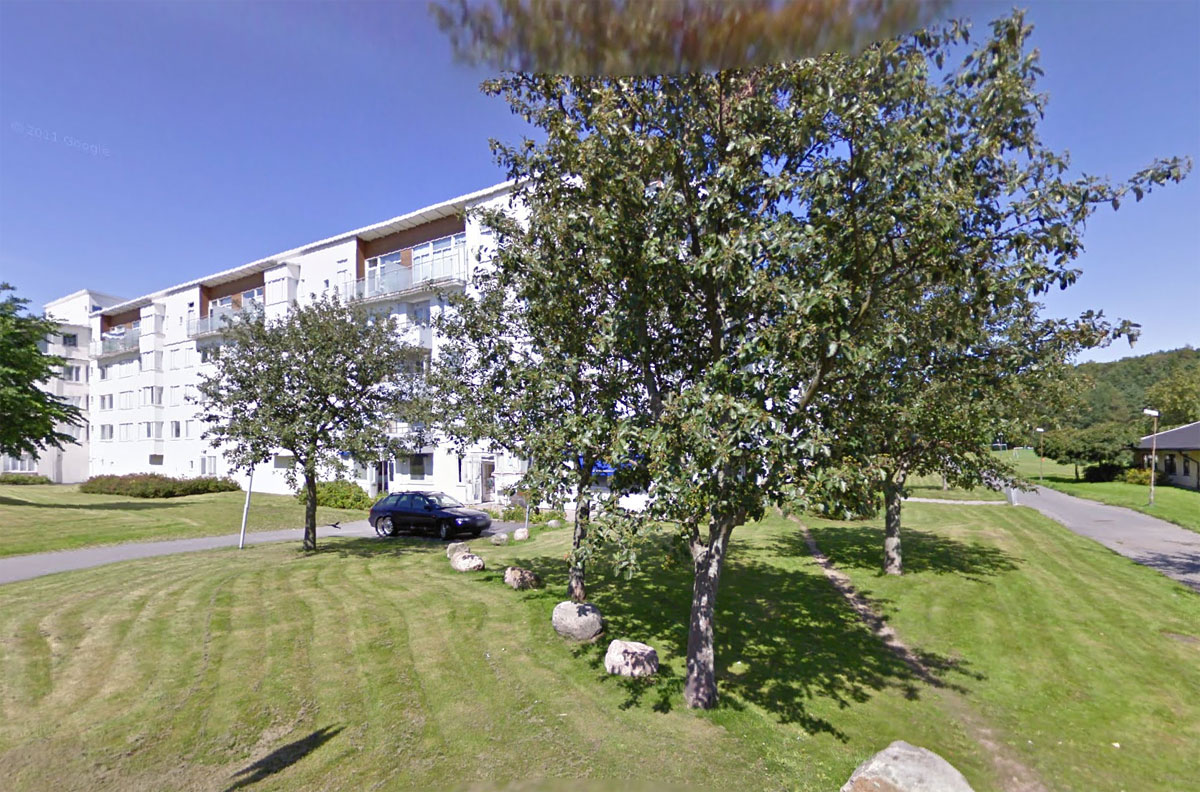 Gånglåten
Gånglåten
Buildings
Buildings with three to nine stores located in the western suburb Västra Frölunda. SGS Studentbostäder rent the apartments from Bostads AB Poseidon, one of the largest housing companies in Göteborg.
Single rooms
One apartment containing 4 single rooms, a living room, kitchen, two bathrooms with toilets and a balcony at Gånglåten 7, room size 11 - 15 m2.
Each tenant has a lockable single room with access to communal spaces. There is no storage space available except for wardrobes and cupboards in the flats.
Apartments
Furnished two-room apartments with kitchenette and bathroom at Gånglåten, size 32 - 36 m2. The apartments may be shared by two persons.

Kindly note that the buildings on this adress are of older standard and renovations have not been made by the property owner of recent times. Therefor the interior standard is below average, which is also reflected in lower rent levels.
Västra Frölunda
The apartments are close to Frölunda Torg, a large shopping center with a wide range of shopping facilities. Frölunda Kulturhus is a cultural center where you can enjoy theatre, cinema, exhibitions and various activities, lika bathing and sports. Close to Ruddalen recreation area with jogging tracks. Good transport linkss to the city center.
Move in info
Welcome to Gånglåten!
SGS rent accomodation from Bostads AB Poseidon at Gånglåten.
Use the contact form under My pages on the CIS-website, if you need to contact us. You should report any faults in the flats using the contact form.
If something breaks or need attention in your home you can make a fault report through the contact form on My pages. You can also call the caretaker at Bostads AB Poseidon or your Kundcenter.
Caretaker
Bostads AB Poseidon Bobutik
Gånglåten 5
Tel: 031-332 13 30
Phone hours: Monday - Friday 10am- 12noon
Visiting hours: Monday - Friday 8 - 9 am, Wednesday even 4.30 - 7 pm.
Keys
Kundcenter Utlanda is in charge of the keys. You collect the keys at the Kundcenter on arrival and return them to the same at departure. Should you lose any of your keys, we have to change the lock and you will be charged for this.
Electricity
The cost for electricity is included in the rent for flats rented by Chalmers University. You should not contact Göteborg Energi AB for subscription.
Internet
The cost for Internet connection is included in the rent for two-room flats rented by Chalmers University. The two-room apartments have Internet supplied by Comhem There is a media box installed in your apartment. Via this you can get access to the Internet and digital TV.
Reporting faults
Please report any faults to Kundcenter Utlanda via Fault report form on My pages. Most of the faults are taken care of by Bostads AB Poseidon. The caretaker will call you to book the time for a visit You can visit the caretaker yourself at Gånglåten 5 (opening hours: Mon-Fri 8-9:00, Wed 16.30-18:00).
Property services
Should a serious problem, such as a water pipe breaking etc. occur nights and weekends, please call the number below. However, do not call if it is not absolutely necessary - this may result in an unnecessary dispatch which you may be liable to pay for.

In case of serious faults call Bostads AB Poseidon, 031-80 50 75
Disturbances nights and weekends contact Bostads AB Poseidon, 031-80 50 75
In case of fire
Should there be a fire in the building, call the emergency number 112 and stay in your room (unless it's burning in your own room/corridor). Do not go out in a smoke-filled corridor or staircase.
Not cleaned when you move in
The flat is inspected before your arrival. However, we do not inspect cleaning after the previous tenant. Please contact Kundcenter Utlanda immediately on arrival, if you are dissatisfied with the previous tenant's cleaning.
Inspection
Information about the inspection of your flat after the previous tenant is found on the CIS-website, under My pages.
Locked out?
Your Kundcenter can help you during office hours. We charge a service fee for lock opening. During evenings, nights and weekends contact SOS Alarm, tel: 031-40 42 90. You must pay the cost to the locksmith yourself.
Laundry
The laundry is located in the yard in Gånglåten. Please book the washing hours with a lock, which is inserted into a booking board in the laundry.
Household waste
There are two recycling stations in the yard; one refuse chute for non compostable household waste and another for compostable household waste. Please follow the instruction for waste sorting. There is a separate room for bulky waste at Gånglåten 12, opening hous 3 - 7 pm.
Inventory
| | | |
| --- | --- | --- |
| | Single room | Two-room flat |
| Desk with a set of drawers | 1 | 1 |
| Bookcases | 2 | 2 |
| Chair | 1 | 1 |
| Armchair | 1 | |
| Bed including mattress | 1 | 2 |
| Mattress pad | 1 | 2 |
| Cover for mattress pad | 1 | 2 |
| Ceiling lamp | 1 | 1 |
| Desk lamp | 1 | 1 |
| Floor lamp | 1 | 1 |
| Kitchen table | | 1 |
| Kitchen chairs | | 2 |
Check that all listed items are in your flat. Light bulbs and curtains are not included in the furnishing. At Gånglåten 7, in the apartment containing single rooms, there is cleaning equipment, such a vacuum cleaner, brush, mop, sponge and detergent.
Cleaning equipment is not included in the two-room apartments.