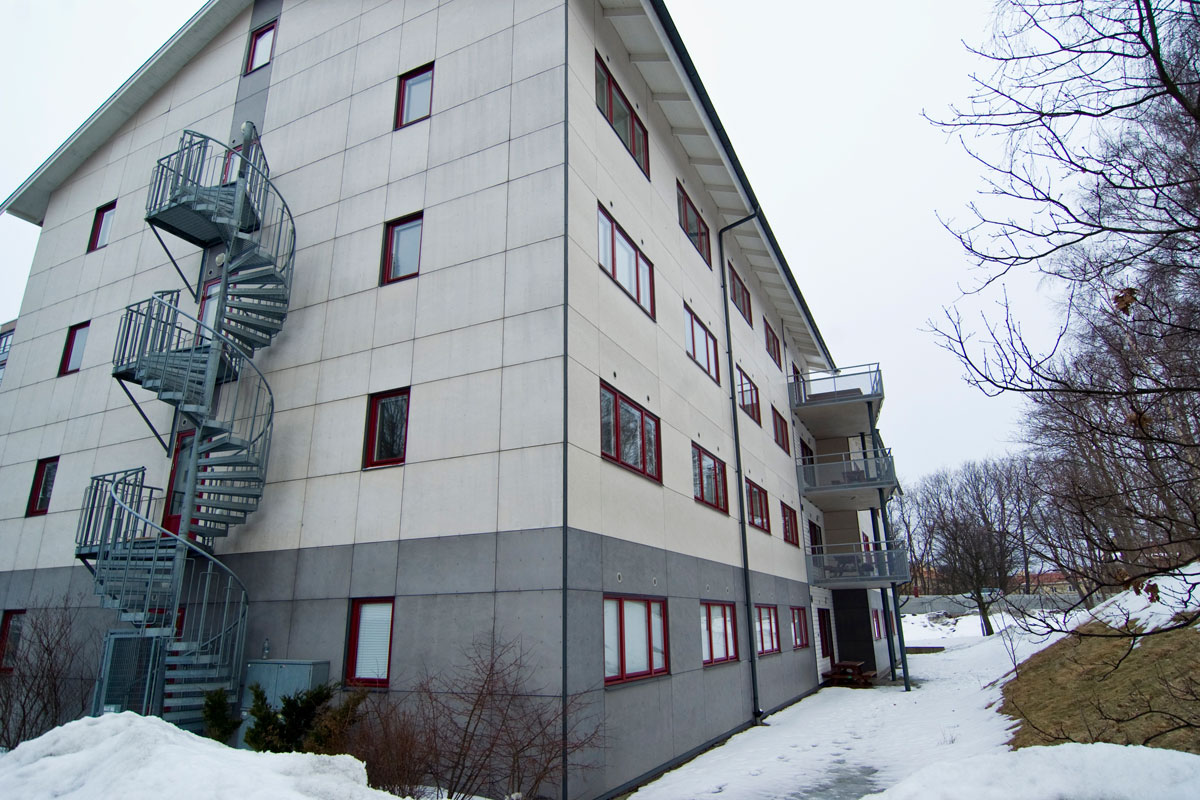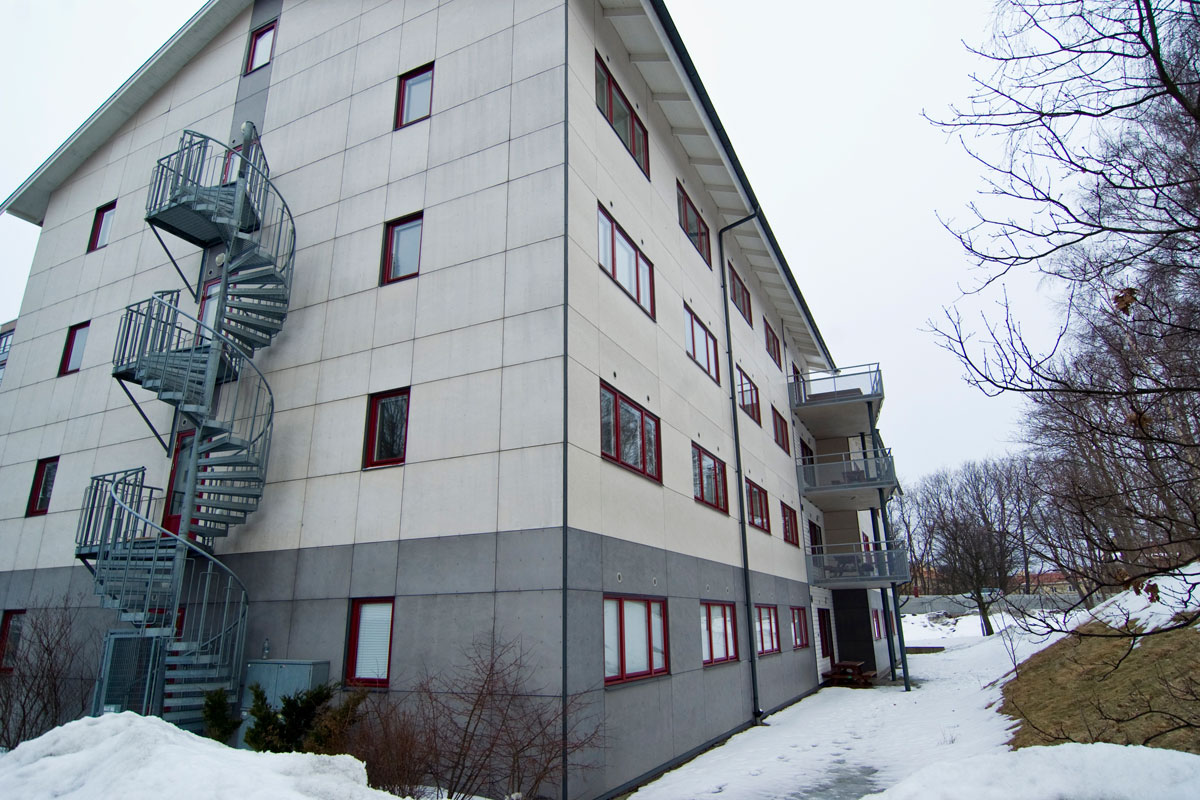 Högsbogatan
Högsbogatan
Building type
Four-storey apartment building built in 2002 containing 56 one room flats.
The flat size is 25 m2 including a private bathroom with a shower and kitchenette with basic kitchen equipment. There is also a bigger common kitchen for the tenants to share in the building.
This is the only area where two persons may share the flat. Note; If you share the flat with a friend, one of you should buy a mattress. There is only one bed and one desk in this apartment (see full inventary list below) and SGS cannot provide any extra furniture.
Internet
SGSNET broadband is included in the rent. Information about your Internet connection (how to register and setup) can be found under Internet/Guides.
How to get to Högsbogatan?
You can take tram no 7 or 8 from Chalmers to bus stop Axel Dahlströms Torg, it takes around 10 minutes.
Kundcenter
At Kundcenter Utlanda you will meet Customer Service to help you in matters regarding the keys and fault reports.
If you need to contact us, please use the contact form on My Pages or fill in a fault report form here.


Address:
Utlandagatan 24
412 80 GÖTEBORG

Phone:
031-333 64 20

Opening hours:
Monday-Friday 09:00 - 16:00
(Shortened working hours one day before a national holiday)
Move in info
Welcome to Högsbogatan!
If you need to contact us, please use the contact form on the CIS-website, on My Pages.
If something is not working in the apartment, please sign in on My Pages and fill in a fault report form. Write in free text what you need help with.
Parking places
If you wish to rent a parking lot in Prickskyttestigen close to Högsbogatan, contact SGS Housing office. A contract for a parking place is separate from the housing contract; you must give a separate written notice to SGS Housing office one calendar month before departing.
Contact Kundcenter Utlanda if you want to borrow a parking permit for the visitor parking space by the building. Parking on those spaces without SGS permit is fobidden.
Bicycles
There is a bicycle rack with a roof in the courtyard. Do not keep your bike anywhere else than there.
Inventory
| | |
| --- | --- |
| Desk | 1 |
| Set of drawers | 1 |
| Desk chair | 1 |
| Bookcase | 1 big or 2 small |
| Dinner table | 1 |
| Dinner table chairs | 2 |
| Bed 200x90 cm including top mattress and mattress cover | 1 |
| Ceiling lamp | 1 |
| Desk lamp | 1 |
| Floor lamp | 1 |
| Shower curtain | 1 |
| Garbage bin under the sink | 1 |
The apartment is otherwise empty (dishware, kitchen appliances, mirrors, curtains, duvets or pillows are NOT included).


Vacuum cleaner
There is a built-in vacuum cleaner in the building; you find the tube in a cupboard in the corridor. The machine will start when you plug in the tube into one of the connections holes in the corridor. Always hang up the tube after use.
Household waste/recycling
There is a waste chamber in a separate building in the yard. Please follow the advice for waste sorting. There are recycling stations at Skäpplandsgatan 1 or Blåvalsgatan.
Cleaning
Students should keep their flats clean and tidy. Those who have the key to the communal kitchens need to make sure that the room is cleaned when the key is returned. Cleaning staff cleans the common areas once a week.
Laundries
There is a laundry on each floor. By using the electronic booking board located at the laundry room you can book the laundry. You can also book through the internet. The laundry is free of charge.
Common Kitchen
There are 4 common kitchens in the building and for each kitchen there is a "kitchen responsible". You can find their contact information on the kitchen door and contact them if you want to lend a kitchen key. Common kitchens are closed during the COVID-19 pandemic.
Storagerooms
All flats have their own storeroom which is located on the attic.
Practical information regarding the electricity, water and fire detector
The electricity central is furnished with an earth fault breaker marked JFB. If electricity goes away then check the fuses in the electric box and turn them back on. Check first if there is any faulty electric equipment that might have caused the shut down and unplug it. You do not have to sign a separate contract for the electiricity or water.
Light bulbs, fluorescent lamps and glow starters are consumable items and tenants should buy and change them themselves. Make a fault report if the lamps won't start working with the new light bulbs.
Tap water is drinkable.
Tenant is responsible for cleaning the drainage in the kitchen and bathroom. You can find videos with instructions here (turn on English subtitles):
Instruction for cleaning the drain pipe under the sink.
Instruction for cleaning the shower drain.

If the water does not go down well after cleaning, please make a fault report on My Pages.
There are 2 types of fire alarms in the apartments. Some are operating by electricity, others by a battery. The fire alarm will start beeping every 45 seconds when the battery is low. Make a fault report on My Pages if that happens. Check the fire alarm regularly to make sure that it works.
Post & parcels
Letters and parcels that do not fit in the mailbox will be sent to the Postnords service point.
If you want to send a letter or a parcel please check Postnords website.
If you receive a letter that is not adressed to you then you should cross out the recepients name and adress, write "Retur" on the envelope and drop it in the yellow Postnords postbox.