100% wind power 2022
SGS's board has decided on four overall strategic goals for the period 2021 - 2021, Strategic goals for the period 2021 - 2025. They concern Our students, Our employees, Our properties and Our money. Innovation, digitalisation and sustainability must be taken into account from the three perspectives economically, socially and ecologically.
We are therefore very proud of the certificate from Entelios, which announces that all electricity delivered to our properties during the year comes from wind power.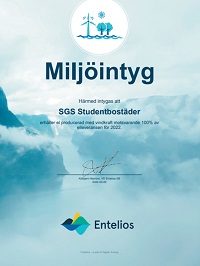 "This is the tenth year in a row that all electricity used on SGS properties comes from wind power! About half of the electricity needs are met by our own wind turbine and the rest by other wind turbines," says Patrik Persson, Real Estate Engineer at SGS Studentbostäder.